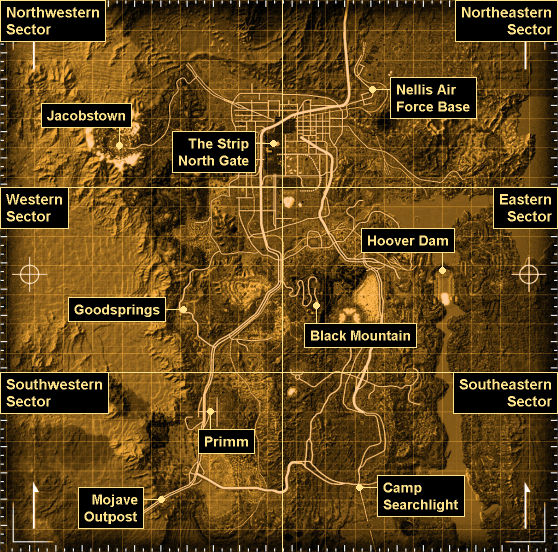 =Primm=
Population: 3
Prosperity: 2
Power: 2 (Vikki and Vance Generator, Bison Steve Generator [Broken])
Major Exports: Entertainment (Vikki and Vance), Small Trading Post (Prospector's Den)
Local Production: Weaponsmiths (Samuel and Michelle Kerr)
Danger: Noticeable (-Wasteland Fauna, -Sporadic Gang Raids, +Capable Law Enforcement)

=Goodsprings=
Population: 2
Prosperity: 3
Power: 1
Major Exports: Clean Water
Local Production: Clean Water, Medium Farms, Medium Bighorner Herds, Skilled Doctor (Doc Mitchell)
Danger: Negligible (-Wasteland Fauna, +Capable Militia, +Renown Physician)

=Sloan (NCR)=
Population: 1
Prosperity: 1
Power: 3 (Heavy Machinery Batteries)
Major Exports: Limestone
Local Production: Limestone Quarry, No Running Water
Danger: Negligible (-Wasteland Fauna)

=Nipton=
Population: 4
Prosperity: 3
Power: 1
Major Exports: Entertainment (Nipton Hotel, Lottery)
Local Production: None
Danger: Slight (-Wasteland Fauna, -Gang Raids, -Local Lowlifes, -Aggressive Troopers)

=Mojave Outpost (NCR)=
Population: 1
Prosperity: 2
Power: 2 (NCR Grid)
Major Exports: Major Entrepot
Local Production: Weaponsmiths, Trained Medics
Danger: Negligible (+Substantial Military Presence)

=Camp Searchlight (NCR)=
Population: 3
Prosperity: 3
Power: 3
Major Exports: Ore, Food, Water
Local Production: Sizeable Farms, Sizeable Ranches, Clean Water, Sizeable Mines, Skilled Weaponsmiths, Trained Medics
Danger: Slight (+Major Military Presence, -Legion Raids)

=Novac=
Population: 2
Prosperity: 2
Power: 5 (REPCONN Batteries)
Major Exports: Scrap
Local Production: Scrap, Small Brahmin Herd, Skilled Weaponsmith (Old Lady Gibson, Roadie Rick), "Renown" Physician (Ada Strauss)
Danger: Slight (-Wasteland Fauna, -Gang Raids)

=Nelson (NCR)=
Population: 1
Prosperity: 1
Power: 1
Major Exports: None
Local Production: Weaponsmiths, Trained Medics
Danger: Significant (+Slight Military Presence, -Significant Legion Raids)

=Boulder City (NCR)=
Population: 2
Prosperity: 2
Power: 2
Major Exports: Cement
Local Production: Cement Factory
Danger: Negligible (-Wasteland Fauna, -Ornery Prospectors)

=Bitter Springs (NCR)=
Population: 2
Prosperity: 1
Power: 1
Major Exports: Misery
Local Production: Trained Physician (Lt Markland)
Danger: Moderate (-Cazadors)

==Greater Vegas==
=New Vegas Strip=
Population: 8
Prosperity: 20
Power: 10 (Hoover Dam)
Major Exports: Entertainment (Strip Casinos)
Local Production: Art, Radio Broadcasts
Danger: Negligible (-Gomorrah Thugs, -Aggressive Troopers, -Drunken Gamblers, +Massive Securitron Presence)

=Freeside=
Population: 7
Prosperity: 4
Power: 5 (Spliced Vegas Grid)
Major Exports: Entertainment (Atomic Wrangler), Energy Weapons Entrepot (Silver Rush)
Local Production: Clean Water, Small Farms, Skilled Weaponsmith (Mick), Renown Medical Complex (Mormon Fort), Art (Kings, Local Artists), Stills (Atomic Wrangler)
Danger: Significant (-Local Lowlives, -Settler Tensions, -Aggressive Troopers, -Drunken Gamblers, +Followers Camp, +Walls)

=Westside=
Population: 3
Prosperity: 4
Power: 2 (Spliced Vegas Grid)
Major Exports: Entertainment (the Thorn)
Local Production: Sizeable Gardens, Art, Brewery (SNM Brewery)
Danger: Significant (-Wasteland Fauna, -Fiend Raids, -Unsecured Sewers, +Walls, +Highly Capable Militia)

=North Vegas Square=
Population: 2
Prosperity: 1
Power: 1
Major Exports: None
Local Production: None
Danger: Slight (-Fiend Raids, -Local Lowlifes, +Walls, +Capable Law Enforcement)

=Crimson Caravan Compound (NCR)=
Population: 1
Prosperity: 3
Power: 3 (Generators)
Major Exports: Major Trade Entrepot
Local Production: Small Brahmin Herds
Danger: Negligible (+Strong Walls, +Small Mercenary Force)

=Gun Runners Compound (NCR)=
Population: 1
Prosperity: 3
Power: 3 (Generators)
Major Exports: Weapons, Armor, Ammunition
Local Production: Sizeable Arms Factory, Skilled Weaponsmiths
Danger: Negligible (+Sizeable Mercenary Force)

=Camp McCarran (NCR)=
Population: 5
Prosperity: 3
Power: 5 (HELIOS One [Below Capacity], Hoover Dam, Generators)
Major Exports: None
Local Production: Skilled Weaponsmiths, Trained Medics
Danger: Slight (-Fiend Raids, +Strong Walls, +Massive Military Presence)

=South Vegas=
Population: 3
Prosperity: 1
Power: 4 (Vault 3 Generators [Below Capacity])
Major Exports: BLOOD FOR THE BLOOD GOD
Local Production: None
Danger: Extreme (-Fiend Territory)

=Outer Vegas=
Population: 4
Prosperity: 1
Power: 1
Major Exports: Food, Water
Local Production: Massive Farms, Medium Molerat Herd, Large Brahmin Herds, Clean Water, Renown Medical Complex (Followers Clinic)
Danger: Significant (-Wasteland Fauna, -Fiend Raids, -Unsecured Sewers)
Name
: each settlement encompasses more area than in-game map markers. The greater scope of these areas will be relayed in-game.
Population
: is an abstraction of how many people live in a settlement.
Prosperity
: is an abstraction of how good life is in a settlement. This shouldn't be necessarily read as a raw figure, but in relation to the Population count. Places with more Prosperity than Population will likely have higher demand for luxury goods, while places with more Population than Prosperity will likely have higher demand for survival goods.
Power
: is an abstraction of how electrified a settlement is. If the Power level is lower than the Population level, the settlement has sub-par electrification. Increasing a settlement's Power level will also likely increase its Prosperity level. Major sources of electricity are noted in parenthesis. If none are listed, assume the settlement mainly uses small generators and Tesla Battery Walls
TM
.
Major Exports:
are a settlement's economic output. In most cases, this is some sort of raw material that will be cheaper in this settlement than in others. The exception are settlements with Entertainment as a major economic driver and trade posts and entrepots, but I'm sure y'all can figure those out.
Local Production:
are a settlement's productive capacity. While most settlers are still connected to the old (dirty) municipal water system and have small kitchen gardens, settlements that have the capacity to produce excess food or clean water to export will be listed. Certain skilled workers will also be noted here, if they provide a skill or service that is somewhat rare in the wasteland. These skilled workers likely have need of raw materials for their work.
Danger:
is a vague abstraction of the level of danger in a settlement. Settlements with high Danger will likely have higher demand for arms and ammunition, though high Danger is often linked to lowered Prosperity, and may hamper a settlement's ability to pay market prices for arms.