Hoxhaist

Posts: 49
Joined: 10:11:29 Friday, 25 November, 2016
---
Hoxhaist

Posts: 49
Joined: 10:11:29 Friday, 25 November, 2016
Where are British troops deployed overseas?
By Liz Jackson
BBC News
25th of April, 2007
From the section UK
MPs are set to hold a debate and vote on Wednesday over whether the UK should expand its armed forces to compensate for the recent upsurge of global violence and instability.
British armed forces are already deployed in more than 80 countries across the world in a range of roles, including some major deployments in Afghanistan, Iraq and a major role in Operation Enduring Freedom taking place in the Arabian Sea.
Middle-East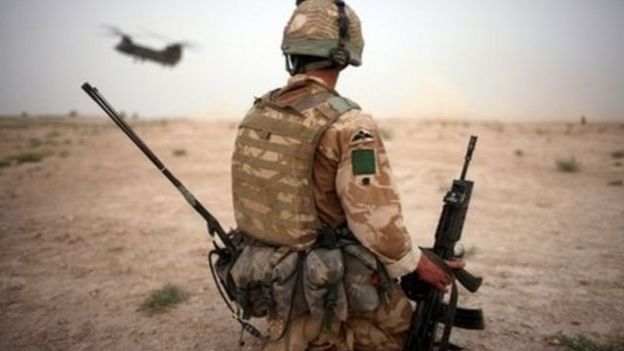 British trooper preparing to exit the battlefield in a Chinook helicopter.
About 10,000 UK troops were based in Afghanistan at the height of the conflict, with most of them remaining in Afghanistan to advise and train Afghan security forces as well as continue battling the insurgency.
This number of troops is to be maintained throughout the next several years.
UK forces were part of a US-led coalition which toppled the ruling Taliban in 2001 after the 9/11 attacks in the US.
More than 450 British troops have died during the multi-year Afghan war, but Number 10 remains adamant in its desire to assist the US in combating insurgent forces responsible for numerous terror attacks around the globe.
British troops are also actively fighting the war in Iraq, assisting the coalition forces.
Arabian Sea
HMS Ocean and her Battlegroup remain in the region to support Operation Enduring Freedom.
HMS Ocean and HMS Illustrious and their escorts continue to patrol the Arabian sea with other UN forces, intent on stabilizing the region. The two battlegroups are mostly operating from the RN bases on Diego Garcia.
Cyprus
British soldiers on a peacekeeping mission in Cyprus.
Cyprus has been an independent republic since the 1960s, but Britain retains two areas of sovereign territory on the island.
These are used as bases for about 2,200 armed forces personnel permanently deployed there, which includes roughly 250 UN peacekeeping troops.
Others are stationed at Royal Air Force bases on the island - such as Akrotiri, from where also the newly transferred HMS Invincible and her escorts keep a watchful eye on developments in the Middle-East and Iran.
The Falkland Islands
An RAF Typhoon jet taking off a local airport for patrol.
Around 1,200 UK military personnel remain stationed on the Falklands
A strong military presence has remained on the Falkland Islands since the war between Britain and Argentina over the territory in 1982.
As part of a government package to invest £280m in renewing and increasing its defenses on the Islands, around 1,200 military personnel remain stationed on the islands.
According to the MoD, defenses include surface-to-air missiles, Royal Navy ships, RAF Typhoon jets and specialist troops, and military personnel are also responsible for search and rescue assistance.
Germany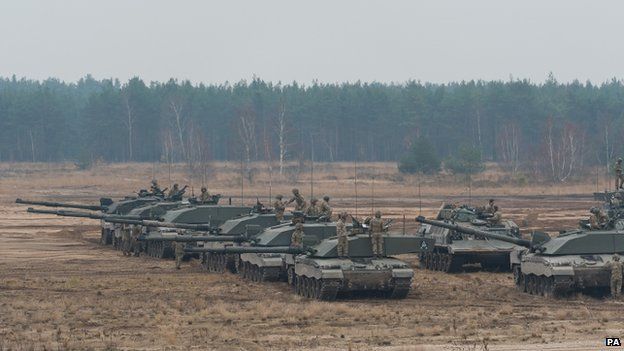 A number of Challenger 2 tanks during a live exercise in Grafenwöhr, Germany
British armed forces have been based in Germany for about 70 years.
About 30,000 military personnel are currently deployed in Germany, but this is scheduled to be reduced in the near future as the German armed forces are to take over duties in defense of the country.
In the government's most recent strategic defense review, it said the intention was still to withdraw forces from Germany by 2020, but "we will continue to seek opportunities to train alongside the German armed forces as well as share technologies which benefit both."
Germany, it added, was "an essential partner for peace."
Gibraltar
HMS Sabre is one of the Royal Navy's Gibraltar Squadron's fast patrol boats
Gibraltar is a permanent joint operating base for UK operations in the region.
Britain rules Gibraltar under the terms of the 1713 Treaty of Utrecht, but Spain continues to claim sovereignty over the territory and there have been numerous disputes between the nations.
The Rock is home to about 160 military personnel who are responsible for military communications and maintaining infrastructure, amongst other things.
Military units stationed there include the Royal Navy Gibraltar Squadron, which is one of the Navy's two permanently deployed sea-going units.
Their role is to patrol Gibraltar's shores and watch over shipping, contribute to joint operations and provide a 'quick reaction force' for ships in the area.
The Future?
HMS Ark Royal in Portsmouth
With the US forces withdrawal from Europe and the general loss of faith in the global Hegemon, there seems to be a near global call for more British forces abroad for peacekeeping and security duties. In the upcoming Strategic Defense and Security Review of 2010 the Secretary of Defense and other ministries are set to consider an enlargement of all branches of service to compensate for the loss of US presence in some sectors.
More on this as the situation develops.
Imperial State of Iran
in
Balance of Power: Overlord
The Habsburg Monarchy
in
BoP 1715: #DraftGesar Edition
The Kingdom of the French
in
Balance of Power: 1845
---
Hoxhaist

Posts: 49
Joined: 10:11:29 Friday, 25 November, 2016
Blair Resigns as PM
By Andrew Whitney
BBC News
27th of June 2007
From the section Politics
Tony Blair has stood down as UK prime minister after 10 years in the job.
He handed in his resignation to the Queen during a private meeting at Buckingham Palace.
Earlier, Mr Blair received a standing ovation from MPs in the Commons in unprecedented scenes at the end of his final prime minister's questions.
Conservative, Lib Dem and DUP leaders all paid tribute to Mr Blair, who is expected to stand down as an MP to take up a job as a Middle East envoy.
"I wish everyone, friend or foe, well and that is that, the end"
Tony Blair
As they left Downing Street the Blair family - including their four children - posed for the gathered world media.
Mr Blair said nothing to the press as they got in the car, but wife Cherie smiled and waved at the press and said she would not "miss" them.
Earlier MPs from all sides called a halt to the usual House of Commons hostilities to pay tribute to him during Mr Blair's final half hour question time session.
Mr Blair admitted he had "never pretended to be a great House of Commons man" but he paid tribute to the "noble" work of MPs and - in his final words to Parliament - said: "I wish everyone, friend or foe, well and that is that, the end."
MPs gave departing Mr Blair a standing ovation
Mr Blair, who was being watched from the public gallery by his family, also paid tribute to troops killed in Iraq.
He hailed Britain's armed forces as the "bravest and the best" and said he was "truly sorry about the dangers they face today in Iraq, Afghanistan and the Horn of Africa".
He added: "I know some people think they face those dangers in vain. I don't and I never will."
"I believe they are fighting for the security of this country and of the wider world against people who would destroy our way of life."
Conservative leader David Cameron hailed Mr Blair's "remarkable achievement" in being prime minister for 10 years, praising peace in Northern Ireland and Mr Blair's work in the developing world which he said will "endure".
He wished Mr Blair "every success for whatever he does in the future".
Mr Blair thanked Mr Cameron for his tributes and said although he could not wish the Tory leader well politically, "personally I wish both him and his family very well indeed".
Lib Dem leader Sir Menzies Campbell said that, despite their political disagreements, Mr Blair had been "unfailingly courteous" and extended his party's best wishes to the outgoing prime minister and his family.
Mr Blair returned the compliment, saying Sir Menzies had a "generosity of spirit and courtesy".
Mr Blair also exchanged tributes with Northern Ireland first minister Ian Paisley.
Asked by Lib Dem MP Richard Younger-Ross to advise his successor Gordon Brown on the relationship between faith and the state, Mr Blair sparked more laughter by saying, after a brief pause: "I think I'm really not bothered about that one."
Looking ahead to his new role, Mr Blair told MPs he believed a solution could be found in the Middle East but it would take a "huge intensity of focus and work".
He told MPs: "As I learned in respect of Northern Ireland, it is important to be able to bring people together, including people who have been very hostile towards each other."
Mr Blair is travelling to his Sedgefield constituency, in the north east of England, where he is expected to announce he is standing down as an MP with immediate effect after 24 years.
Surprisingly. John Prescott is is not stepping down from frontline politics after 10 years as deputy prime minister. Indeed, it looks increasingly as though he is about to challenge Blair's nominal successor Brown for the position of Labour leader and PM.
More on the Labour leadership contest soon.
Imperial State of Iran
in
Balance of Power: Overlord
The Habsburg Monarchy
in
BoP 1715: #DraftGesar Edition
The Kingdom of the French
in
Balance of Power: 1845
---
Hoxhaist

Posts: 49
Joined: 10:11:29 Friday, 25 November, 2016
Labour leadership contenders
By Andrew Whitney
BBC News
29th of June 2007
From the section Politics
Gordon Brown is now confirmed as Tony Blair's expected successor as Labour leader and prime minister - with only John Prescott raising a ticket to challenge his 'coronation'. With the votes being counted, here is a short run down on the two candidates:
The Trifecta, from the top: Brown, Prescott, Blair.
Now that the moment of truth is upon him, a great weight appears to have been lifted from Gordon Brown's shoulders, and his victory seems all, but assured.
Profile: Gordon Brown
He has coveted the top job for more than a decade now, since agreeing to give fellow moderniser Tony Blair a clear shot at the party leadership in 1994.
He has built up an enviable reputation as chancellor but his tendency to brood about his thwarted leadership ambitions is the stuff of Westminster legend, along with tales of feuding and mistrust between the Treasury and Number 10.
Mr Brown has been in more relaxed and expansive form of late, as he tries the prime ministerial role on for size on a series of foreign trips and in keynote speeches on security and his pet subject "Britishness".
He was always the strong favourite to replace Mr Blair.
SUPPORTERS: His leadership campaign is being led by Commons leader Jack Straw. He is expected to be backed by 300 Labour MPs as well as most of the big trade unions.
Profile: John Prescott
In contrast to the favourite of the 'mega rich' Brown, John Prescott is known for his pugnacious style which has both endeared him to the masses and given his political opponents ammunition against him. The Deputy prime minister is a man fiercely proud of his working class roots, has always been disdainful of the mega rich which allowed him to seize the remaining labour seats and make himself a contender.
A favourite target of the tabloid press, dubbed "Two Jags" - after the two official Jaguar cars he is meant to have had at one point - he is fiercely proud of his working-class roots, portraying himself as firmly "Old Labour".
His down-to-earth image proved vital to the New Labour project, forming a bridge between the party's grassroots and the new breed of Labour politician at the top of the party.
"We are all middle class now," he said before the 1997 general election, neatly summing up Tony Blair's "big tent" philosophy.
He was rewarded shortly after Labour's landslide victory with his own, specially-created "super department", spanning transport, planning, the regions and the environment.
It came as a surprise for most when he announced he was contesting the 'Coronation' of Brown as PM and slated himself for the run.
In recent years, Mr Prescott's strained relations with the media have become even worse, whereas his recent harsh critique of the Blair administration's 'cowtowing' to the USA which resulted in the UK's entry into Afghanistan and Iraq has given him near fanatical support from those disenfranchised by the current government.
SUPPORTERS: His leadership campaign is being led by Edward Samuel "Ed" Miliband. He is expected to be backed by 54 Labour MPs which would put him as the runner up, but has been actively engaging the wavering MP's and worked at grassroots level to amass support from the labour constituents.
Regardless of which of the men will come out on top in the next few days, the changes are expected to be major as the winner will no doubt seek to cleanse their ministry of the others loyalists.
Imperial State of Iran
in
Balance of Power: Overlord
The Habsburg Monarchy
in
BoP 1715: #DraftGesar Edition
The Kingdom of the French
in
Balance of Power: 1845
---
Hoxhaist

Posts: 49
Joined: 10:11:29 Friday, 25 November, 2016
Prescott is UK's new prime minister
By Andrew Whitney
BBC News
1st of July 2007
From the section Politics
John Prescott and his wife Pauline waving to a crowd of his supporters.
John Prescott has become the UK's prime minister, succeeding Tony Blair after a closely contested Labour Leadership contest where he won with just 200 of the 364 Labour MPs. Many attribute the surprising result to the grassroots following which remained silent in the prenup to the contest.
Posing outside 10 Downing Street with his wife Pauline, the man who has been Mr Blair's Deputy since 1997 said: "The People have spoken."
He said his priorities were Transportation, Housing and restoring trust of the every man in politics and promised to "do his best".
Mr Blair has stood down as MP for Sedgefield after 24 years to become a Middle East peace envoy. A Cabinet reshuffle is expected on Thursday.
BBC political editor Nick Robinson said it was likely that Environment Secretary Ed Miliband would be promoted to deputy prime minister.
"I will do my best to restore the faith of the People in the Party."
John Prescott, prime minister
Before entering 10 Downing Street, Mr Prescott said: "This will be a new government with new priorities. And I have been privileged to have been granted the great opportunity to serve my country.
"And at all times I will be strong in purpose, steadfast in will, resolute in action in the service of what matters to the British people, meeting the concerns and aspirations of our whole country."
Mr Prescott promised to lead a government of "the people" and said his "mission" was to provide "the best of chances for everyone".
Nick Robinson's view
"If we can fulfil the potential and realise the talents of all our people then I'm absolutely sure that Britain can be the great global success story of this century," he told reporters in Downing Street.
Mr Prescott is thought likely to carry out the bulk of his Cabinet reshuffle on Thursday, but it has already emerged that Margaret Beckett is leaving her post of foreign secretary.
Election demand
Conservative leader David Cameron congratulated Mr Prescott on becoming prime minister, but demanded he hold an immediate general election.
He said: "John Prescott doesn't have the mandate, he wasn't elected as prime minister, as proven by his closely contested victory and he should go to the country."
Mr Prescott spent 57 minutes inside Buckingham Palace in a private audience with the Queen - more than double Mr Blair's 28 minutes.
Mr Prescott, becomes the 11th prime minister of the Queen's reign.
Imperial State of Iran
in
Balance of Power: Overlord
The Habsburg Monarchy
in
BoP 1715: #DraftGesar Edition
The Kingdom of the French
in
Balance of Power: 1845
---
Who is online
Users browsing this forum: No registered users and 2 guests